Regular price
$1,990.00 USD
Regular price
Sale price
$1,990.00 USD
Unit price
per
Sale
Sold out
EFI Fiery Pro Series Color Controller E42B Model D72802 (NEW) For Ricoh C5100 Series
Fiery Color Controller E-42B for the Ricoh Pro C5100S/C5110S Deliver Outstanding Color Quality with High Performance Better Productivity with Higher Performance The powerful architecture of the Color Controller E-42B shortens turnaround times, while helping companies produce professional-looking finished jobs that win them new business and get their customers noticed. Its production features such as Spool-Rip-Print simultaneously, Sequential Print and Proof Print further automate workflows, minimize clicks and increase productivity. Outstanding Color Across Applications In demanding environments, achieving accurate color every time is critical. The integrated Fiery color management tools provide great color control out of the box. Customers who routinely use transparencies, and other effects such as drop shadows, can rest assured that their designs will be printed correctly. This is because the Fiery FS100 Pro system running on the Color Controller E-42B is the only one in the world to achieve the VIGC PDF RIP audit Perfect Pass label. Centralized Control and Automated Management Distributed printing environments often pose major systems management challenges. The Color Controller E-42B offers a centralized solution with the award-winning Fiery Command WorkStation®. Its interactive WYSIWYG interface enables administrators to monitor, control and troubleshoot production from multiple desktops or locally at the Fiery server. The new Fiery Ticker application allows visual production monitoring from a distance, giving the operator more flexibility. Fiery Hot Folders and Virtual Printers automate repetitive tasks to reduce waste and errors, for greater efficiency and quality assurance. Industry-Leading Production Print and Variable Data Tools The Color Controller E-42B offers optional make-ready tools and driver-based imposition with Booklet Maker, to efficiently handle many production processes. It enables customers to produce short-run jobs profitably by automating manual tasks and increases workflow flexibility by supporting industry-leading variable data printing (VDP) formats including PPML, and the new PDF/VT-1 and 2 formats. Integration with Third Party and Other EFI Solutions The Color Controller E-42B uses the Adobe® PDF Print Engine (APPE) v2.5 rendering technology to offer a native end-to-end PDF workflow. The Fiery open platform also supports industry standards and seamlessly integrates with existing MIS environments, third-party vendors and other EFI MIS solutions. The EFI™ Fiery® Color Controller E-42B offers a powerful and flexible foundation for managing environments with distributed operations, multiple platforms and different operator skill levels. It enables you to increase your profits by delivering high-impact documents with vibrant images and color that exceed customers' expectations.
  Why buy from us?
-Free technical support after your purchase 
-1 month 
or 10,000 pages 
warranty 
-Free phone and email support
 Copier Clearance Center
Copier Clearance Center was established in 1993. We buy and sell both domestically and internationally and have wide assortment of used copiers, fax machines and printers of all brands. All of our copiers are in house and available for your inspection. They all have been tested and rated for functions, cosmetics and overall appearance. We also sell genuine accessories of all popular brands. Our accessories include toners, imaging units, developers and copier parts such as fax board, fixing unit, fuser unit, roller, cleaning brush, drum blades etc.
For more detailed information on our current inventories of copiers and accessories all potential buyers and their representatives are welcome to give us a call. We are more than happy to assist you with the pricing and guide you to the copier you wish to buy.
Business Hours: Monday-Friday, 8:30 AM-5:00 PM (Pacific Time)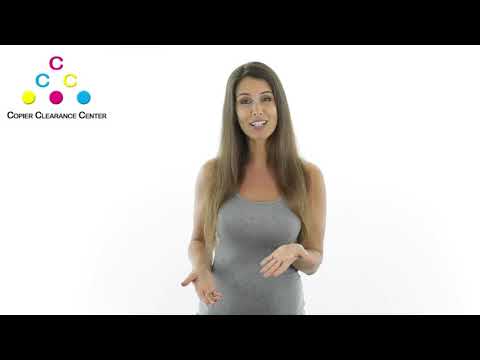 View full details